Drako Motors' Shiv Sikand Explains The Engineering Brilliance Behind The 2,000 Horsepower Dragon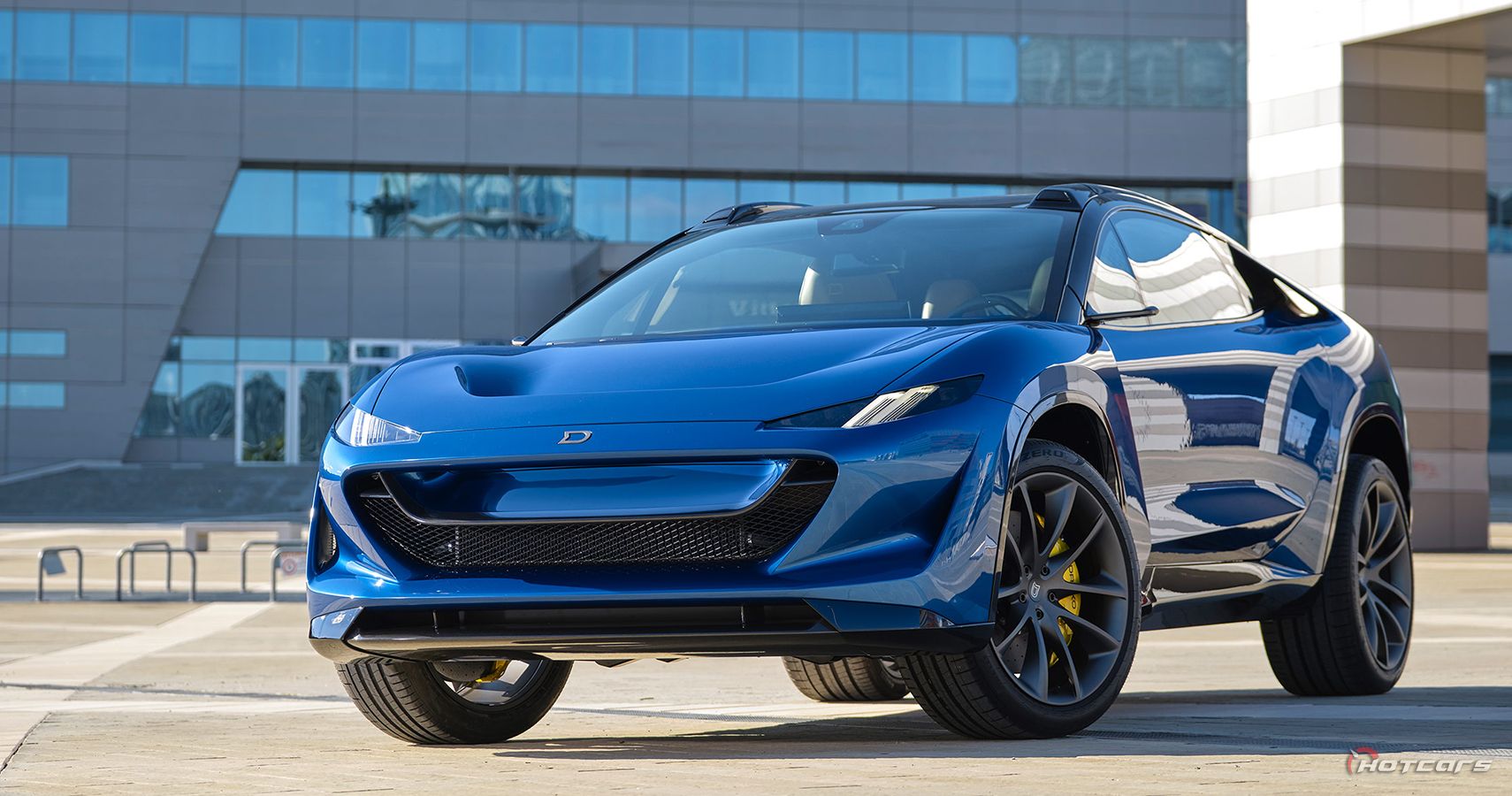 Founded in Silicon Valley nearly a decade ago, Drako Motors is a startup best known for its $1.2 million GTE electric supercars. But as Drako Motor's co-founder and executive vice president, Shiv Sikand, points out, it's essential to bring lower-cost, higher-volume vehicles to market to hold more brand relevance. And that's exactly what Drako is doing next. In November 2022, Drako Motors unveiled the Dragon, a $290,000 electric SUV set to make a sensational 2,000 horsepower.
Drako Motors: An Overture
Drako Motors is an EV startup founded by software entrepreneurs Dean Drako and Shiv Sikand in late 2013. Drako and Sikand are also behind IC Manage, a firm working hand in hand with software giants like AMD and Nvidia in the semiconductor industry. Dean Drako serves as the firm's CEO and Shiv Sikand is the executive VP.
Drawing from their technical expertise in the tech sector, the company's path forward was to develop a vehicle outfitted with the latest technology to allow for a mesmeric driving experience. The first vehicle the startup planned on releasing was an ultra-low production supercar mainly dedicated to showcasing its technology. This vehicle was the GTE.
The GTE: Electric Motors, 4 Times
In 2019, the California-based startup launched the $1.25 million GTE at Monterey Car Week. Riding on the chassis of a Fisker Karma, yet outfitted with its own bespoke battery system and powertrain pushing a claimed 1,200 horsepower, the launch received a great deal of attention from within the automotive industry. With a quoted top speed of 206 mph, the GTE was (and still is) one of the few EVs that could reach the 200 mph mark. But the GTE's staple wasn't its top speed, but its powertrain composed of four motors, one at each wheel.
When designing the GTE, the team decided to skip on differentials and go straight to a quad motor powertrain. "We knew that four motors was the only way to make a proper car," Sikand told HotCars. "Quad motor and AWD have been my obsession. I've studied Haldex, Torsen, and all the different torque proportioning algorithms and how these devices work, and frankly, they were great for the eighties."
"Why keep the mechanical differential? It just makes no sense," Sikand added. "It's an analog device: it's slow, it's ugly, and it's heavy. You can't have reverse torque. In order to apply reverse torque to a wheel, you have to use the brakes, and that's like using a typewriter; it's analog with low latency."
To Sikand's point, quad motors are simply more robust and capable than dual motors mated to differentials. Four motors allow for true torque vectoring, which delivers incredible road holding and performance. For instance, the powertrain can distribute torque to each wheel individually when entering a turn. But even more fascinating, say you're entering a sharp turn. With Drako's powertrain, the system can send power to the outer wheels, but send negative power (regen) to the inner wheels to allow for even sharper cornering.
RELATED: Everything You Should Know About Regenerative Braking
This action allows for improved handling with the precision of an electric motor. "If you have electric motors, you want to have four of them, and then you want to write the control system so that you can actually use both positive/negative torque and differential torque to rotate the car. We did it because we want a better driving car," Sikand said. While one would expect good handling in a car of its ilk, it's important to remember that the GTE carries around some substantial mass, 5,300 lbs of it. But Sikand says the hefty weight makes it all the more impressive.
"[The GTE] was never designed [for production] in volume. [We designed it] to be a technology demonstrator of what we could do. I think that we achieved that by showing that you have a fairly big car, in this case, a four-seater that had space, trunk, and comfort, [along with] the advantage of the platform to make a big heavy car handle like a sports car," Sikand told HotCars. "[After the GTE], we realized what you could do with four motors and a low center of gravity."
Onto New Horizons
After working on the GTE's limited production of just 25 units, the Drako team began plans for a new product launch. "So when it came to the Dragon, it was a little bit of a battle with the team. Obviously, you can guess I wanted a nice coupe, but the realities of the market are that SUVs are the fastest-growing segment and the profit margins on them are incredible. Most of these [supercar] companies struggle to make money. They make incredible cars that enthusiasts love and want, but they couldn't stay in business [producing low-volume supercars alone]," Sikand said.
"It was Porsche who changed the game anyway with the Cayenne," Sikand told HotCars. In the 1990s, Porsche was in the midst of a massive sales slump, and selling 2-door sports cars wouldn't be financially viable long term. Before the turn of the century, Porsche partnered with Volkswagen to jointly produce the Cayenne, sharing underpinnings with the Touareg. Since this decision, the Cayenne has hit numerous sales records and has paved the road for Porsche's enthusiast vehicles to remain in production.
RELATED: Here's Why You Should Consider The Porsche Cayenne
But the Cayenne wasn't just a people hauler; it was one of the first luxury performance SUVs that became a paradigm for other automakers; it was the first of its kind. Drawing from this inspiration, Drako Motors wants to not just build a crossover to tear up the tracks, they want to develop something to embark on entirely new waters. "In this modern life, people want space. So we felt that the packaging advantages of an EV would allow us to build a new kind of car. That's what Dragon is, a new kind of car," Sikand said.
An SUV, Drako Style
The Drako Dragon attempts to be different from traditional SUVs in nearly every regard. "It's a large form factor car that you take the dogs, the kids, and the luggage, but it's still a hypercar at heart; it has incredible handling and performance," Sikand told HotCars. Weighing 4,969 lbs and measuring 199 inches, the Dragon sits right between the BMW X6 and X7 longitudinally. Like the X6, the Dragon will be a 5-seater, though that's where its SUV normalcy ends.
Set to enter production in 2025 with a $290,000 price tag, the Dragon aims at becoming the first production SUV based on a carbon fiber monocoque chassis. Sikand says that selecting a carbon fiber monocoque made sense to offset the weight from the battery back below and enhance the vehicle's overall rigidity. "There are no collectible four-door cars, and we really wanted to make a statement and create something that's super cool. So we've actually created the world's first five-seater two-door car. You have perfect ingress and egress for both the front and rear passengers, but it's a two-door and has no B-pillar, so the visibility and the overall spaciousness is very spaceship-like," Sikand said.
RELATED: Ranking The Fastest SUVs On The Planet
Instead of having four doors, the Dragon will have two large gullwing doors, allowing for a massive opening space thanks to a missing B-pillar. "[Thanks to the dual gullwing doors], the interior cabin dimensions are amazing; normally, you couldn't do it in a stamped steel chassis because you wouldn't be able to pass crash [tests]. It's very, very difficult to maintain the structural integrity, particularly for the side impact tests and the front offset tests, without having a B-pillar. But with a carbon fiber monocoque, we are able to do that," Sikand added.
Powertrain and Production
But the carbon fiber monocoque isn't the only aspect of the Dragon Sikand shares his excitement about. Underneath the carbon shell is a new version of the GTE's quad motor powertrain. The Dragon is set to produce 2,000 horsepower, 800 more than the outgoing model. Also up from the GTE is a claimed range of 420 miles, which is on par with the Lucid Air Touring. The total system should propel the car to sixty in just 1.9 seconds and achieve a quarter mile in 9 seconds flat.
The Dragon's specs are ambitious, but with the power density of electric motors, the claimed figures should be achievable. For instance, Rivian's R1T pickup truck can sprint to sixty in just 3.0 seconds, and that's a 7,148-pound behemoth making a comparatively mere 836 horsepower. But as for getting the Dragon out on the road, Drako plans to revamp its production facilities to begin production of its SUV. Instead of building them in California, Drako is looking elsewhere to start producing its SUV. "Right now, [we build the GTE] here in California, but our plan is to have a production facility in Austin, Texas," Sikand told HotCars.
Sikand says that getting production done in-house is a priority. "[All of the production will be in-house] because we're basically going for a very innovative chassis architecture," Sikand added. With a platform like the Dragon's, it must be on its own bespoke platform, and Sikand thinks that production would be more streamlined if done in-house.
After all, the Dragon is an electric hypercar aiming to do something different. To Sikand and the Drako team, the Dragon is a car attempting to check every single box. "We're in the revolution of EVs, so we want to have a car that isn't compromised in any way."