New headrest technology being tested to reduce whiplash in cars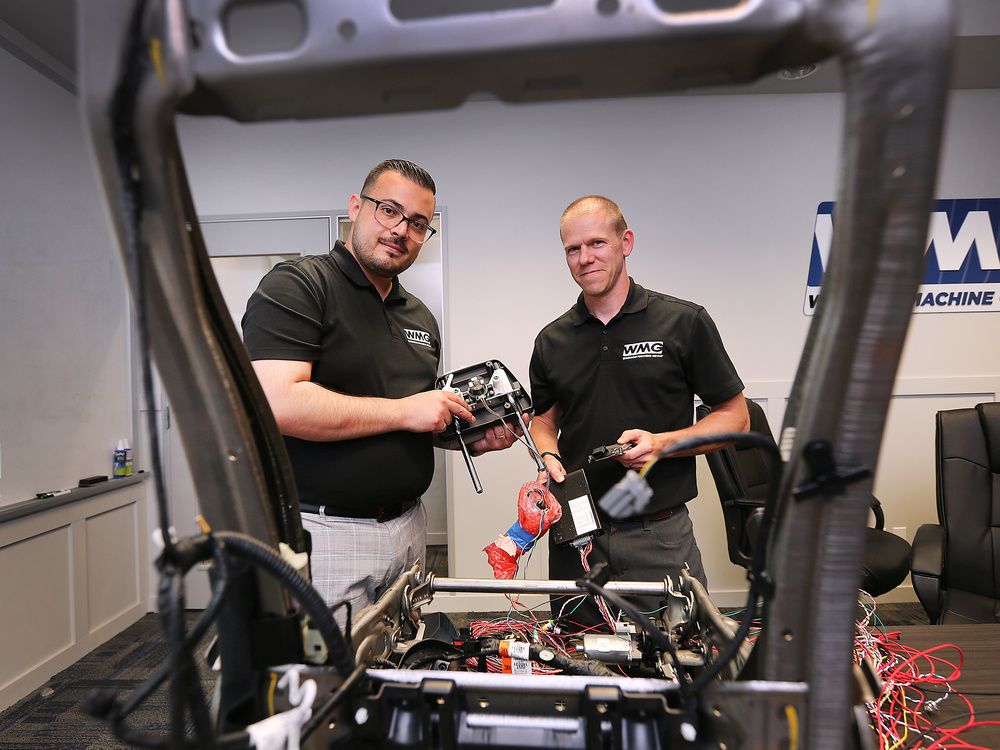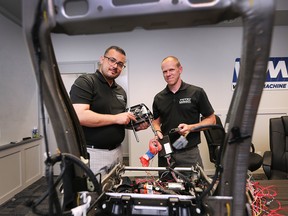 Article content
New technology spearheaded by a team of Windsor-based engineers could be on the horizon to prevent whiplash in rear-impact vehicle crashes.
Article content
The Windsor Machine Group, one of the industry's leading suppliers of headrests, including those used in the Windsor-made Pacifica, last week sent a team to the Insurance Institute for Highway Safety in Virginia to test its True Active head restraint. 
The head restraint uses radar sensors — the types used for backup assist and collision detection —  to optimally adjust in the second before a rear-end car crash, with the goal of minimizing impact on the occupant's head and neck.
"We thought that this would definitely be a great technology to prevent, or at least reduce, the potential of whiplash," said Ahmad Farghawi, vice-president of engineering at Windsor Machine Group.
Farghawai said rear-end collisions are the most common type of car crash, and whiplash, an injury cased by the rapid back and forth movement of the head and neck, is the most common injury resulting from those crashes. Whiplash can cause chronic pain and lasting disabilities.
Article content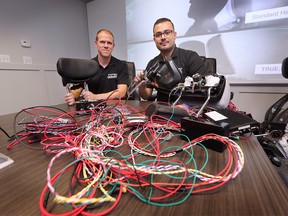 The problem with some anti-whiplash head rests is that they can be uncomfortable for drivers, Farghawi said, meaning they're not used effectively: only 14 per cent of Canadians adjust their headrest correctly — adding that industry professionals prefer to call them head restraints, not headrests, to recognize their importance to occupant safety.
"What we're seeing is because of comfort, occupants do not want it to be in their way so they push it back as much as they can, and then they lower it downwards as much as they can," Farghawi said.
"When you have a head restraint that's way too far from your neck, way too low from your neck, that's when you're increasing the potential of whiplash occurring to you or your neck."
Article content
Farghawi said the motorized head rest they're proposing is the best of both worlds: Comfort for most of the time passengers are in the vehicle, and added safety in the event of a crash. 
True Active uses the existing sensors in a car to detect a possible crash, then signalling to the head restraint to position itself closer to the occupant's head, supporting it on impact. The movement happens in less than a second in the event of a coming crash — and if no crash occurs, the head rest moves back. 
The prototype was first developed in 2019, and showcased to Original Equipment Manufacturers in the following years before it was sent for testing at the Insurance Institute for Highway Safety (IIHS) last week.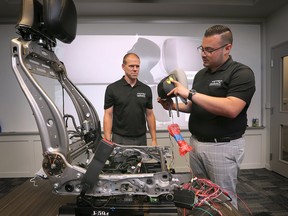 The IIHS is an insurance industry-backed non-profit research group that measures safety features in cars. It helped back the Windsor Machine Group in testing the True Active head restraint by providing test vehicles.
Article content
"These were actually vehicle tests, where one vehicle ran into the other and then deployed the head restraint prior to impact," said Marcy Edwards, a senior research engineer at IIHS. "What we'll do is make a comparison and see if the dummy is able to detect a difference in that technology.
"This is a fairly new area that we're trying to evaluate and understand if they could be suitable for for real world occupants."
The IIHS is now reviewing the data from the Windsor Machine Group's True Active test and the results are expected this fall.
From there the Windsor Machine Group will continue to show it to OEMs with the hopes the technology is adopted, Farghawi said, noting that all head restraints must be further tested in each individual vehicle.
"We're hoping once they see the results that (auto manufacturers) will be encouraged."