These 10 Cars Got Stuck In Development Hell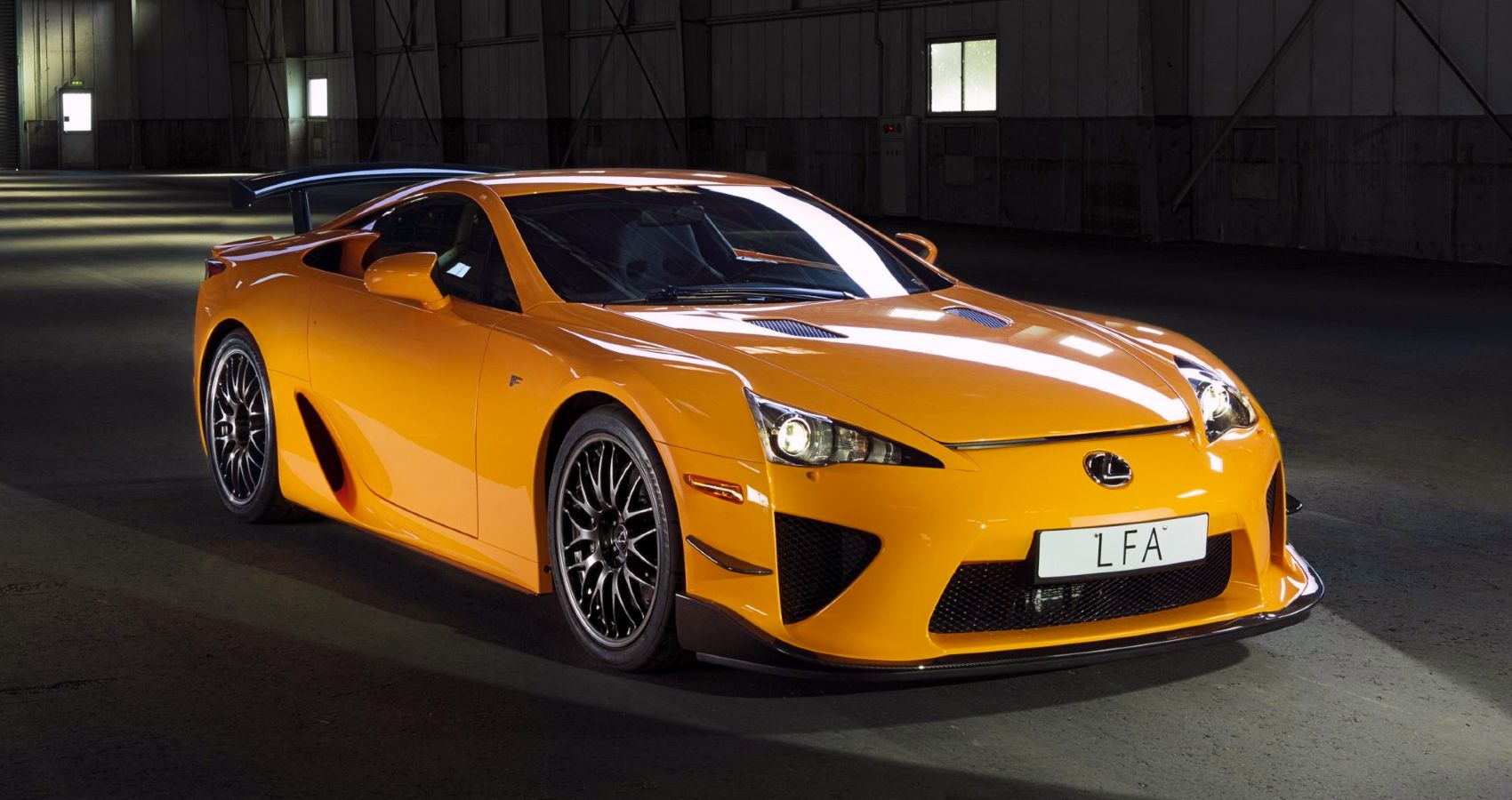 If you're into video games, you'll know about the concept of development hell. Sometimes, projects just get stuck in a seemingly never-ending cycle of not being finished. You'll hear about them all the time for years, but you barely ever see anything to show for them. This is something that can happen with cars, too!
There are quite a few cars that have either taken a very long time to develop or are still stuck in a limbo state to this day. Sometimes that's because of engineering challenges. Other times, it can be down to financial misfortune or just sheer bad luck.
10/10

Mercedes-Benz S-Class (W140)
The W140 S-Class is one of the most celebrated cars Mercedes-Benz has ever made. It's built like a tank, it's incredibly luxurious, and you could even get it with a V12 engine! But, it also took a long time to get from the drawing board to reality. Development on the W140 began in 1981, with its launch date set for September 1989. But, the project began to run into delays and cost overruns. Things got so bad that Mercedes-Benz's chief engineer Wolfgang Peter was fired! The result was a car that was launched 18 months later than anticipated in 1991 and cost a lot more than the model it replaced.
A lot of enthusiasts call the W140 the last 'true' S-Class. Mercedes-Benz switched to a market-driven approach rather than an engineering-driven approach for future models, so the enormous cost overruns would never happen again. This meant the W220 that replaced it was noticeably poorer quality. But, at least the W220 didn't get stuck in development hell!
9/10

Jaguar XJ220
The XJ220 is possibly one of Jaguar's greatest cars ever. Its sleek and flowing lines have made it a design classic and its racing-derived engineering has made it a technical marvel of its time, too. But, it had a very difficult birth. Among other things, the car had to be re-engineered as Jaguar decided to give it a twin-turbo V6 engine instead of the V12 it was originally designed to have. Whilst the original V12-engined concept car was revealed to the public in 1988, the V6-engined production car didn't roll out of the factory until 1992.
The XJ220 was a colossal failure for Jaguar. The economy had become worse by the early '90s and, therefore, a lot less people didn't want it or couldn't afford to own it. But, it has gained a cult status over the years, and they're now incredibly desirable cars.
RELATED: This Is Why The Super-Rare Jaguar XJ220 Is A Collector's Dream
8/10

DeLorean DMC-12
The DeLorean DMC-12 is one of the most iconic cars of the '80s. Thanks to its starring role in the Back To The Future movies, it become a proper classic that endures to this day. What a lot of people don't realize, however, is that the development of the DMC-12 suffered from all sorts of setbacks. The plans for the DMC-12 were first announced in the mid-'70s and promised an incredibly advanced car, featuring advanced construction techniques for the time and a Wankel rotary engine mounted in the middle of the car. By the time the production version rolled off the line in 1981, however, it was a much more basic sports car with an asthmatic PRV V6 engine. The entire car had been rethought.
The DeLorean DMC-12's almost total re-engineering is a part of the DeLorean story that rarely gets told. Perhaps that's for the better, as it makes how weak the actual DMC-12 turned out even more gutting. It could have genuinely been a really advanced car with some great features!
RELATED: The True Reason Why The DMC DeLorean Project Flopped
7/10

TVR Griffith
The case of the TVR Griffith is one of the most recent examples of a car being seemingly stuck in development hell forever. The arrival of the first new TVR since the 2000s has been plagued with delays upon delays. On paper, it looks like a fantastic proposition. Designed by Gordon Murray Design and intended to be manufactured using its new iStream process, the re-invented Griffith was originally supposed to be powered by a Cosworth-tuned 5.0 liter Ford Coyote V8. Unfortunately, the current iteration of TVR has struggled financially. It's also had a lot of issues with its factory in Wales.
The Griffith still hasn't surfaced years later beyond a single prototype, and a lot of people who put down pre-orders for them are still without their cars. There are some points where it feels like the rebirth of TVR will never come. The company is still trying hard to make it a reality, though. If the new Griffith was never to be produced and TVR was never to come back, it would be a real shame.
6/10

Nissan Titan (A61)
The second generation of Nissan's Titan truck was originally supposed to be out in the late '00s and be a collaborative project with Dodge. The Titan would have been a Nissan-badged sibling to the Ram 1500 pickup. But, that's not how things panned out. Dodge pulled out of the deal, leaving Nissan to go it alone. As a result, the A61 Titan didn't debut until 2016.
The A61 Nissan Titan is a great truck. It's been praised a lot by journalists and owners alike. But, it is odd to think that it could have appeared much earlier than it did, had Dodge not pulled out of the deal.
5/10

Toyota GT-86/Scion FR-S
The development of the Toyota GT-86 (or the Scion FR-S, as it was known for a time in North America) is a very interesting one and involved a significant time spent in development hell. How did this happen? Well, this beloved, back-to-basics budget sports car with buckets of tuning capability was originally intended to be something quite a bit different! The original concept was something a bit more like the current generation Toyota Supra, powered by a V6 hybrid powertrain. That idea ended up being scrapped, however, and Toyota ended up developing the GT-86 we know and love today in a partnership with Subaru.
It's very interesting to think about how different the Toyota GT-86 could have been had Toyota stuck to its original plans. The car we did get, though, after that period of development, hell was fantastic. Perhaps it was for the better that Toyota changed its mind about the GT-86, as the original version of the car certainly wouldn't have been as tuner-friendly as the version we got!
4/10

Acura/Honda NSX (NC1)
The second generation version of the NSX took a really long time to arrive. The reason why that was is that Honda scrapped the original version of the car! The original second-generation NSX project was announced in December 2007 and was intended to be done by 2010. This version would have been powered by a V10 engine and could have been faster than the R35 Nissan GT-R on track. It subsequently got canceled due to the financial crisis, and work didn't resume on the idea of a new NSX until 2011. The new hybrid-powered NSX finally went into production in 2016.
The second-generation NSX is a car that often gets overlooked compared to its peers. It's the most forgotten, and consequently the most underrated supercar of its era. This means that people often don't realize that they spent a huge amount of time trapped in development hell.
RELATED: Why Most Gearheads Are Wrong About The Acura NSX
3/10

Lexus LFA
There are very few supercars that are as universally loved as the Lexus LFA. It's the Japanese brand's most brilliant car to date, with its incredible looks, incredible driving prowess, and glorious V10 soundtrack. What's less well-known about the LFA is that it took a rather long time to come to fruition! The first LFA prototype was built in 2003 and the first concept was shown in 2005, but the production version of the car didn't surface until the beginning of the 2010s. The long development time was partly due to Lexus deciding to change the construction of the car. It used a carbon fiber tub, instead of an aluminum frame.
The LFA's long gestation is often forgotten. But, it's probably a huge reason why it ended up being such a great car. Lexus was able to save weight by using carbon fiber in the construction, which no doubt helped make the LFA even more nimble.
2/10

Bugatti Veyron
The Bugatti Veyron is the yardstick of hypercar excess. It was an engineering marvel that could take you up to 250 mph and beyond in supreme comfort. It's also a car that spent an incredibly long amount of time in development hell. The first concept that resembled the Veyron, the 18/3 Chiron, was shown to the public at the 1999 International Motor Show in Frankfurt. This was 6 years before the production version of the Veyron left the factory in 2005! The original design had a lot of big changes during that time. This included the engine design being changed from a W18 with 3 banks of cylinders to the quad-turbo W16 we know today.
The amount of time it took to develop the Bugatti Veyron probably isn't surprising, considering how much of an engineering challenge it was. It was a true technical exercise in many ways, and the world is all the better for it!
1/10

Elio 3 Wheeler
The Elio is the most egregious case of a car being so deep down in development hell that it feels like it'll never show up. We've been promised the super economical Elio for years, and yet it never seems to surface. Originally envisioned as a gasoline-powered city car that could achieve up to 84 mpg, it's now an electric-powered concept. The original release date for the Elio was in 2012, but it's now 2023 and the car has still not surfaced. Between December 2019 and September 2021, the Elio company itself didn't provide any updates at all about what was going on!
Elio is currently in hot water over its failure to deliver on its promise. It was actually fined $7.5 million recently for failing to create the jobs it promised in Louisiana. It remains to be seen whether Elio's 3-wheeled creation will ever appear at all.