Danfoss Tech Provides Drivetrains for Two Doosan Excavators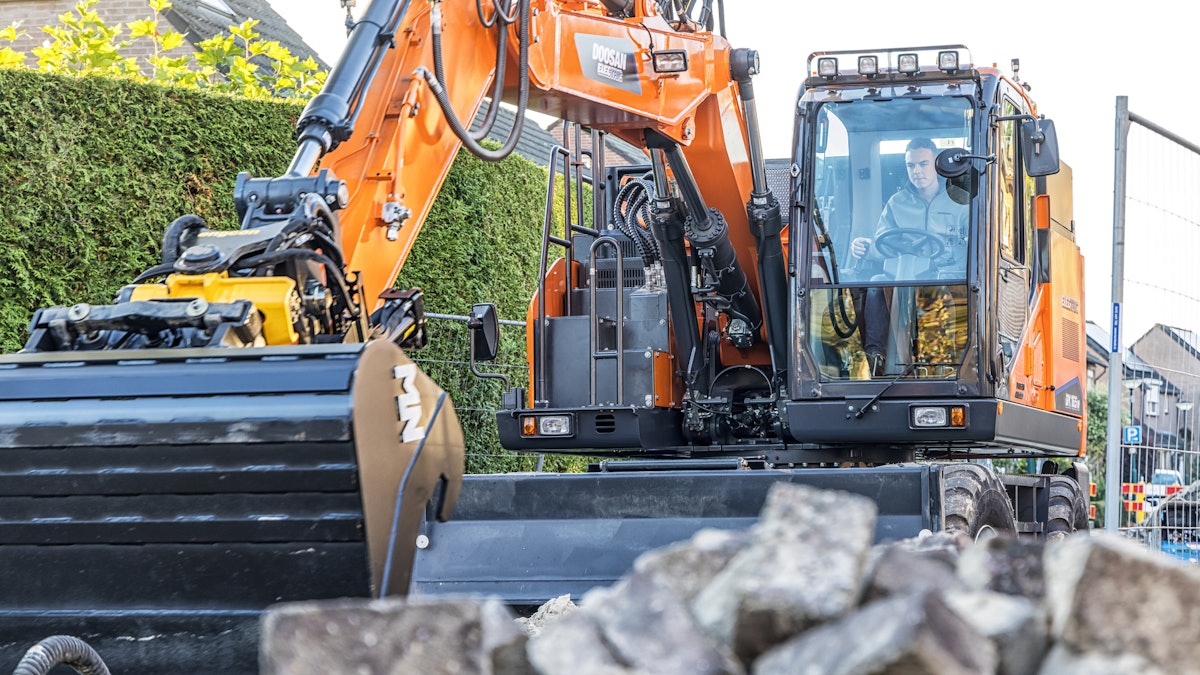 Danfoss Electric power Solutions' Editron division has presented the drivetrains powering two new entirely electric Doosan excavators – a 16-ton wheel excavator and a 30-ton crawler excavator. The 1st electric powered equipment were being sent to shoppers at the stop of 2021.
Doosan
Danfoss Electric power Solutions' Editron division has furnished the drivetrains powering two new absolutely electric powered Doosan excavators.
Electrauvision, a division of Danfoss' associate Hydrauvison, is providing the Danfoss drivetrains to Electrical Development Devices (ECE), which has a license agreement with Doosan to modify the firm's products for European dealers.
"ECE selected Danfoss items for the enhancement of these fully-electrical excavators because of to our exceptional technological assistance and efficient source chain, which helped notice the bold setting up software," Antti Väyrynen, director of Off-Highway for Danfoss' Editron division, claimed. "Our lasting magnet motors also supply a torque characteristic that beautifully matches the need for the machines."
According to the United Nations, the development market accounts for 23% of carbon dioxide emissions globally, with nearly 6% of this figure coming from the equipment and products used on web sites. Nevertheless, a growing variety of international locations around the world are looking to lower design-related emissions as the planet transitions to web zero. Metropolitan areas such as Oslo, Helsinki, Amsterdam and London have established targets for zero-emission development sites.
"We're happy to be delivering this revolutionary equipment, constructed employing sustainable tactics and elements to reduce their carbon footprint, to customers and dealers across Europe. We've also done the homologation and certification of the machines and the powerbox know-how in accordance to the most the latest European polices," Pieter Staadegaard, CEO of ECE, included. 
The recently-produced machines are a 16-ton wheel excavator and a 30-ton crawler excavator. The common diesel engines ordinarily located in excavators have been replaced with an electric powertrain outfitted with a long-lasting magnet motor, delivered by Danfoss' Editron division. The procedure is controlled by a Danfoss controller and characteristics a screen that utilizes Danfoss' Additionally+1 software platform. The very first electric machines have been sent at the conclusion of 2021 and are now operating in the Netherlands and Norway, with more orders becoming manufactured.
Both equally excavator types also attribute an exchange battery swapping system, wherever an electrical powerbox is employed to electricity the electrical drivetrain. The electric powered powerbox, also controlled by a Danfoss controller, has a exclusive impartial weather management method that ensures the batteries will remain in outstanding working situation.
"Wheeled excavators are traditionally developed with a diesel motor, so converting them to a zero-emission equipment necessary two principal aspects: the substitution of the diesel motor and the machine's strength supply," Brenno de Zwart, CEO of Hydrauvision, commented. "Applying a swappable powerbox for the vitality source, which can be charged at an additional location or even by the device alone, is revolutionary for the development market. The powerbox also has further purposes, which includes that it can be utilized for DC charging, many thanks to the unbiased climate manage program."
Further completely electric Doosan excavators are also in production, which includes 20 30-ton crawlers and 40 16-ton wheeled types. ECE is also building a 200-kilowatt electric tractor and a 17-ton electric powered wheel loader. These types will be based on the similar electric powered powerbox made use of in the 16-ton wheel and 30-ton crawler excavators.