Motor and Generator Repair Company Completes Purpose-Built Facility for Large Rotating Electrical Machines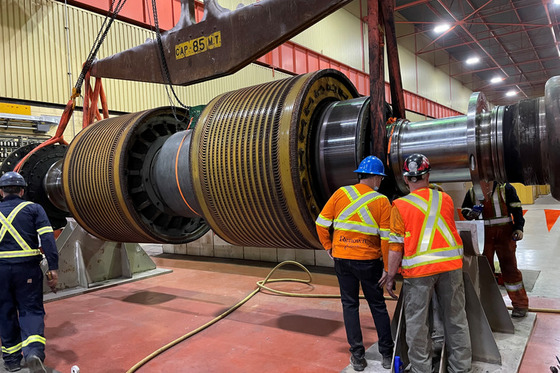 Welcome to Thomas Insights — every day, we publish the latest news and analysis to keep our readers up to date on what's happening in industry. Sign up here to get the day's top stories delivered straight to your inbox.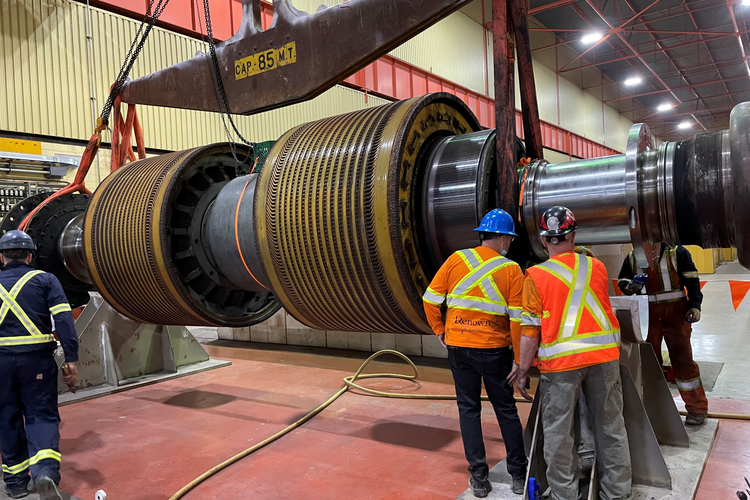 This article was sponsored by Renown Electric Motors & Repair, Inc., a Canada-based company that provides electric motors and repair services for rotating electrical machines for oil and gas, mining, wind power, manufacturing, and other industries throughout North America.
It can be frustrating for a customer to discover that a company offers the services they need but not covering the full scope required to do the job right. For the company, it's a difficult conversation to have — to tell the client that their project is too large or that it cannot be tested at full voltage.
Until recently, Renown Electric Motors & Repair, Inc., a Canada-based company that provides electric motor and generator repair services for various industries, had this very issue. Their solution? Expand their facilities, add talent, and expand their capabilities.
"We acquired a new building because we thought it was a good time to expand what we were doing at Renown Electric," says Jeff Collins, partner at Renown Electric Motors & Repair, Inc. "We used to focus primarily on small and medium-sized motors, but when the opportunity arose four years ago, we decided to grow our offerings for motor and generator repairs and include coil manufacturing for large rotating electrical equipment."
"What happened was some large motor and generator specialists became available to us, so we hired them. At the same time, General Electric in Peterborough was looking to close down. It was a unique opportunity to pick up the kind of manufacturing and test equipment we needed along with some experienced talent at the same time," says Collins.
Located in Concord, Ontario, the new 34,000-square-foot large motor and generator service center, complete with 50-ton cranes throughout, adds to the company's existing facilities: a 25,000-square-foot main repair facility and a 12,000-square-foot warehouse. With increased test capabilities and equipment, the new facility will allow Renown Electric to take on repair projects for larger motors and generators.
Renown Electric is ISO 9001:2015-certified and CSA-qualified for repairing motors and generators in hazardous locations. The company uses computerized testing techniques to make sure repairs meet or surpass OEM specifications. They also have a fleet of service and delivery vehicles with cranes for job-site pickup and returns.
Get to Know Renown Electric
Renown Electric's capabilities include shop services, field services, motor management, and preventive and predictive maintenance. Predictive maintenance programs include on-site laser alignment, vibration analysis, motion amplification analysis, infrared thermography, non-destructive testing, and oil analysis. 
In addition to repairs, the company provides new motors and generators, including a large inventory of parts from brands such as US Motors, WEG, General Electric, Westinghouse, Otis, and more.
Renown Electric employs more than 50 people with experience in any size electrical rotating equipment repair, remanufacture, overhaul, engineering, and field service.
Thomas Insights (TI): What new capabilities does the new facility have compared to your existing facility?
Jeff Collins (JC): The new facility follows the philosophy of our main facility, which is roughly 25,000 square feet with a fairly high volume setup. We repair about 400 motors a month, with up to 4,160 volts and up to 2,000 horsepower in size. 
The new facility has a test capability of up to 13,800 volts AC and 750 volts DC and is set up for large motor movement. There are 50-ton cranes in receiving and in most of the service bays. The facility has a separate winding and coil manufacturing area with its own environmental controls to keep out dust and dirt (FME – Foreign Material Exclusion). The space was purpose-remodeled specifically to optimize workflow for large motor and generator repairs including large burn-out and bake ovens, large lathes, and many special purpose machines for large motors and generators.
TI: What customers can you serve now that you couldn't before?
JC: We've extended the work we've already been doing. We can serve customers whose larger motors simply couldn't fit before in our head office facility. At the same time, we now have completely new customers in new industries. We used to only service the small motor needs of the wind power, hydroelectric, mining, and heavy manufacturing industries, but now we have the ability to service all their motor and generator needs.
TI: How does Renown Electric support local small businesses?
JC: We're very happy to help other motor shops. One challenge of having a motor shop is that it's not the kind of thing you can haul around behind you on a trailer. But there's a great need for local motor shops and the people and services they provide. When there are opportunities for those local motor shops to get into something slightly bigger, we're happy to step in and help them out. We're glad to support these shops with services they can't provide, helping them stretch the kind of work they can get into. So at any point, we're open to partnering with them to serve a broader range of their customer's needs.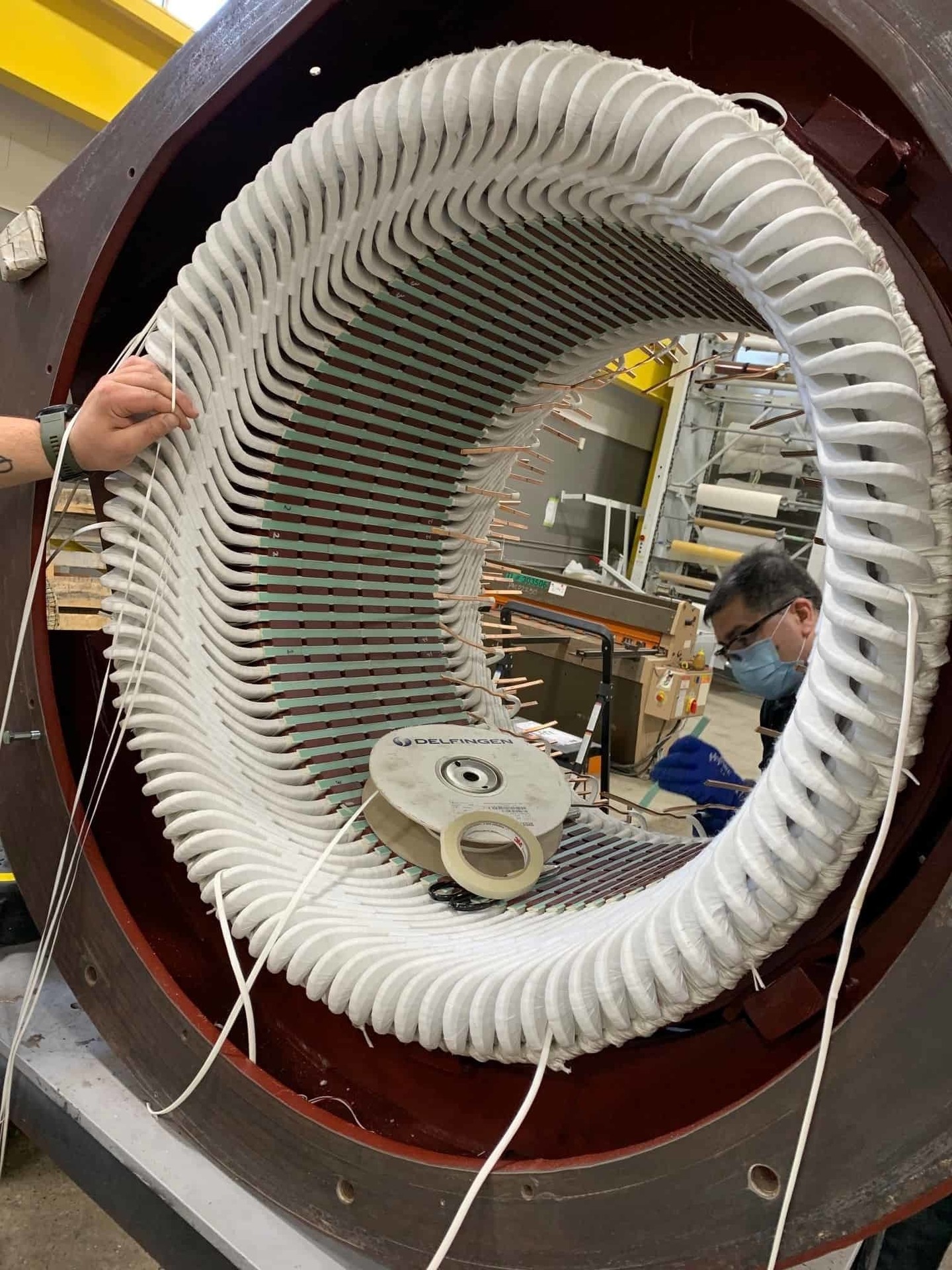 TI: How does this tie in with your company's value of service?
JC: Service is not just something we say — it's something we live by, it's something we love. We're not interested in making things just a little better, making you a little bit happier, or trying to make your experience a little better each time. It's something that we deeply believe in and that we try to live by every day. It's a theme that runs through our company and within our culture, and we never stop trying to make our services and support better for people. That's why we like to support other motor repair shops when we can, and that's why we opened a new facility dedicated to servicing the larger motors and generators of our own customers.
TI: What geographical areas do you serve?
JC: Our main business is coast to coast to coast in Canada, but we are starting to do more work in the United States. Right now, the work comes up to us, and we repair and return it, but in the near future, we plan to get work visas for our personnel so they can travel down and provide the services that our Canadian customers have been enjoying.

Image Credit: Image Credit: Renown Electric / Shutterstock.com
Why This Umbrella Manufacturer's All-in-One Approach to Production Is the Future of Small Business Manufacturing
Next Story »
More from Business & Industry